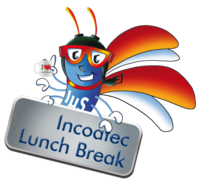 Thank you for registering for the Incoatec Lunch Break.
We will get in touch with you a few days before the Lunch Break and send you the link together with further information. The online meeting will be held on Zoom.
If you have any questions please contact lunchbreak@incoatec.de.
We look forward to seeing you at our next lunch break.


Your INCOATEC-Team
Information on data protection can be found in our data protection declaration.
<![CDATA[ // This example adds a marker to indicate the position of Bondi Beach in Sydney, // Australia. function initMap() { var map = new google.maps.Map(document.getElementById('map'), { zoom: 4, center: {lat: -33, lng: 151} }); var image = 'images/beachflag.png'; var beachMarker = new google.maps.Marker({ position: {lat: -33.890, lng: 151.274}, map: map, icon: image }); } // ]]>